Welcome!
Thank you for visiting the web site of the District Attorney's Office in Prosecutorial District 31, which encompasses all of Forsyth County in North Carolina. It is the duty of this office to represent the State with integrity and professionalism, while protecting victims and their rights, in the pursuit of justice.
The goal of this website is to make the information and services provided by the District Attorney's Office and the criminal justice system available to the public. Please take the time to search each page and explore all the information provided. Should you have any questions, please complete and submit the form below. Most questions are responded to within 72 hours. The contact form is not meant for time sensitive issues or questions.
Your District Attorney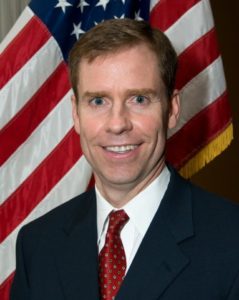 Jim O'Neill was appointed by Governor Bev Perdue as Forsyth County District Attorney in November 2009 and is currently serving his third term as Forsyth County's elected DA. Prior to his appointment, he served as an Assistant District Attorney under former District Attorney Tom Keith. Since taking over as the District Attorney of Forsyth County, Jim has instituted a prosecution program targeting sex offenders living within our community, as well as a program designed to focus resources on prosecuting chronic criminal offenders. In addition to those initiatives District Attorney O'Neill started an Elder Abuse Task Force to protect the senior members of our community. In 2018, he spearheaded the District Attorney's Treatment Alternative (DATA) program, the first of its kind in the State to help those who are struggling with opioid addition. In 2020, he launched the DRIVE program which provides assistance to citizens with driver's license restoration.
Jim is a veteran prosecutor who started serving in the Forsyth County DA's office in 1997. A graduate of Duke University, Jim earned his law degree from New York Law School. Over the past 20 years, Jim has prosecuted some of the most serious and violent offenders in our community. He has served in many leadership roles in the office, including chief motor vehicle prosecutor. He was also Forsyth County's first dedicated Domestic Violence prosecutor.
While his career consumes a significant portion of his time, Jim finds time to give back to the community in his role as head coach for the Men's Lacrosse team at RJR High School. He has also served as a board member for Hospice, The Parenting Path, the Industries for the Blind and Senior Services. He currently serves on the board of ARCA.  Jim and his wife, Dr. Oona O'Neill, are the parents of two beautiful daughters and a handsome son.